How It Works: Methodology
a unique consulting approach
HOW IT WORKS:
1. Proposal
2. Scope
3. Methodology
4. Results
The McGrath Consulting Group believes the value of our services directly correlates to the extensive research conducted. That's why McGrath interviews a wide range of stakeholders for every project. We want to gain a comprehensive understanding of your current position and uncover hidden problems, conflicts, opportunities, ideas, and strengths. Our reports are never template-based; they are tailored to fit each client's environment and needs.
McGrath interviews a combination of governing officials, administration, department heads, fire chiefs, police chiefs, department leadership teams, employees, retired department members, neighboring municipalities, EMS medical directors, district attorneys, communication center directors, and members of the general public. This inclusive approach makes everyone feel involved and minimizes resistance when change is introduced following our study.
McGrath is not a one-dimensional, lone consultant. Rather, on every project, McGrath includes many highly skilled consultants. Each consultant focuses on their discipline and contributes a wealth of municipal experience, education, and expertise that generate well-rounded, comprehensive results.
Ask McGrath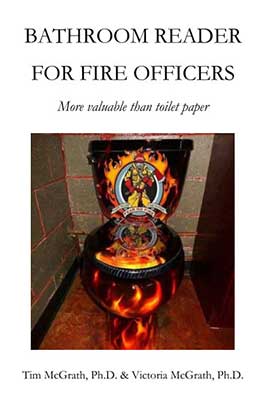 our NEW book
Bathroom Reader for Fire Officers
and EMS, Police, Public Safety providers
This entertaining book will challenge and inspire you to become a better leader. More than three dozen articles — gleaned from decades of experience serving departments across America — cover communication, change, diversity, career considerations, finances, goal setting, leadership, performance, planning, training, and trust.